Two Tiers.
One Exceptional Experience.
Thank you for your interest in our club memberships. We truly believe that our two clubs are the best way to experience Two Sisters Vineyards. With access to exquisite small-lot wines, the ability to partially customize shipments, our Vine Points Rewards program, bespoke events, personalized concierge services and more, we invite you to join Club TSV.
Should you have any questions about our memberships, we invite you to reach out to our Club TSV Concierge, Kylie Cirocco at vipclub@twosistersvineyards.com.
VIP Club
Mixed six bottle case shipped quarterly with exclusive privileges.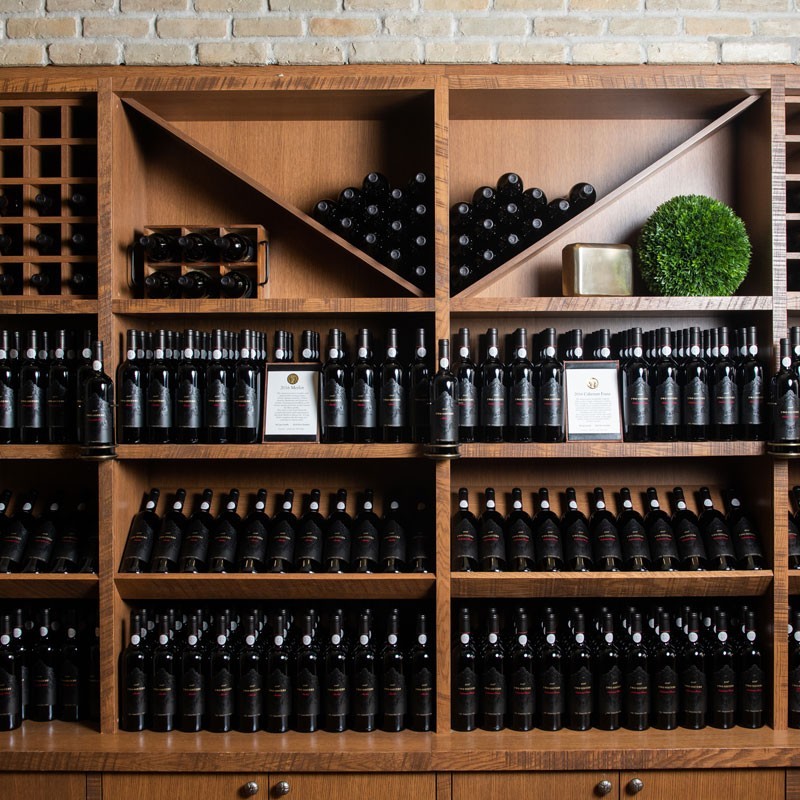 Cellar240
Red focused club with white varietal integration.
Twelve bottle case shipped quarterly with exclusive privileges.

Capped 240 membership club; currently full. Join VIP Club for priority access to Cellar240 should a membership become available.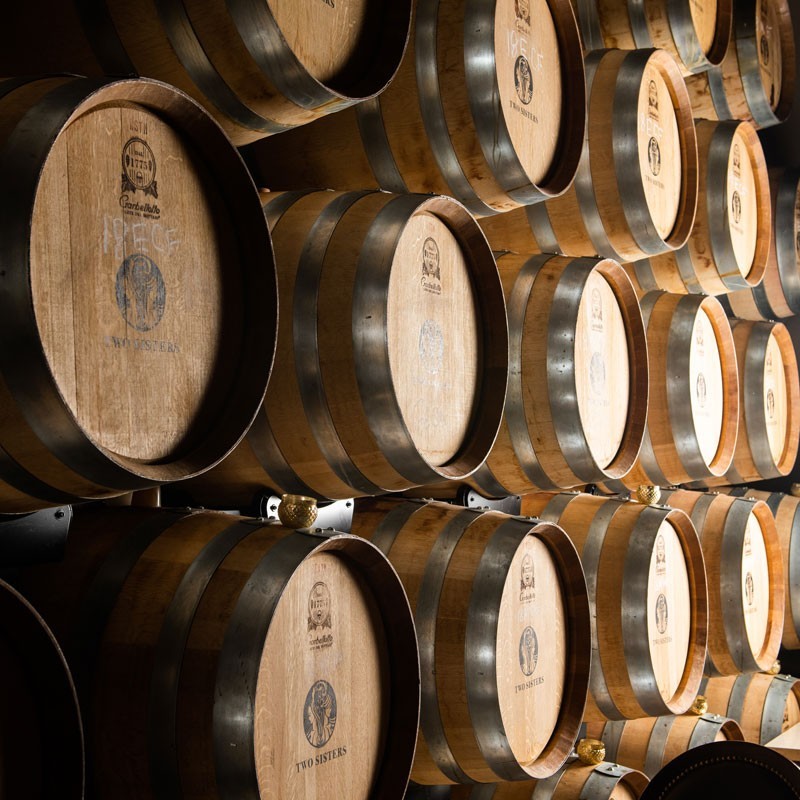 TESTIMONIALS
"We cannot say enough about our membership with Two Sisters Vineyards. First, they are probably producing some of the best wines in all of Canada. Their Sparkling's, Chardonnay and full bodied red wines are absolutely amazing. Kudos to the Winemakers Adam and Emily. Being a Wine Club Member has so many benefits. From private tasting experiences, complimentary tastings, access to exclusive wines and various dinners / events at the estate, we always have an amazing experience. The estate is captivating, and Kitchen 76 is serving some of the best food in NOTL. ALL of the staff are simply incredible, personable and extremely knowledgeable. From Dieter, the Estate Sommelier, Erika and Kylie, the Retail / Wine Club Concierge Managers, Kelly and Kevin, the Kitchen76 Managers, and the rest of the staff, including the concierge team, wine consultants and servers, the experiences you create always exceed our expectations. We have developed so many life-long friendships with the team, and other members we have met at the estate. A sincere thank you to all of you for always being so welcoming and accommodating. We greatly appreciate you! If anyone is considering becoming a member, we would highly recommend Two Sisters Vineyards."
- Joe & Michele
"We joined the Wine club at Two Sisters after our first tasting during our first visit to the winery. That was back in 2020 after the first pandemic lockdown. We were very lucky to have Dieter finish off our tasting with great background details about the winery and the area. He also suggested if we were interested to know more we could join the wine club, so we did and have loved every minute of it! Shortly after we joined came the multitude of lockdowns and restrictions, but that didn't stop the TSV team from creating interesting, informative, and enjoyable virtual events. We have been to quite a few of the events at the winery as well, some of which are club exclusive, from pick up events to Dinner in the Vines, we have had so much fun and met so many amazing new friends. Lastly, this review would not be complete without mention of the awesome Two Sisters staff! Erika, Kylie, Tara and all their teams have made the events so much fun. Angela, Melissa, Adam, Emily and Dieter really took the virtual events to another level and are always around with smiles and friendly greetings. Thank you to everyone at TSV. We really love being VIP club members!"
- Ed & Nancy
"A number of years ago red wine was an afterthought to my wife and I, and then we attended Two Sisters Vineyards. Our appreciation for red wine, and top quality wines in general, was forever charged. We were so impressed with the wines and their incredible facility that we joined the TSV wine club on our second visit. Without question, the best decision we have ever made, and we have now been Cellar240 members for over five years. We have come to personally know many of the staff, the wine club Manager, the sommelier, the winemaker, and the actual "Two Sisters", all of whom have gone to incredible lengths to ensure that we are treated as "family" each and every time we attend. Members are considered family, and when you add to that: the highest quality of wine anywhere in Ontario and beyond; the most creative and elegant of member events, coordinated by the most thoughtful and considerate wine club Manager imaginable; the most beautiful of wineries and vineyards; and a first class, on-site restaurant, you have Club TSV. I would strongly encourage anyone who appreciates great wine at a great value, to visit TSV, and consider becoming a wine club member. You won't regret it."
- Jeff & Cathy
"We have been satisfied Wine Club Members (Cellar 240) at Two Sisters Vineyards since 2016. We love the wine! We love the level of professionalism, enthusiasm and customer centric focus that the staff exhibit on our regular encounters with them. We love all of the perks that go with the membership including the partial customization of bottle selections, complimentary desserts and ice wine when dining. We enjoy and have a lot of fun picking up our wines every quarter at TSV even though there is free delivery. There is always something new to try when we pickup our shipment. We love visiting the winery and the facilities and believe that TSV has raised the bar for wineries in not only the Niagara Region but in Canada. We love the complimentary wine tasting in the wine boutique affords to us as Wine Club Members. With every shipment we also get vouchers for complimentary wine tastings that we hand out to family and friends so that they too can experience the wine and overall ambiance of TSV. As Wine Club Members we have exclusive access to library wines and new releases made strictly for the Members. We have access to early booking for lunch and dinner. We love Kitchen 76 so having this access is valuable to us. We have personally booked and used the Barrel Room for functions since, as a Wine Club Member, we have complimentary access to it. We get first notifications of Estate events. Also, we get 20% off merchandise and we enjoy our annual wine and cheese event and our complimentary dining and wine pairing experience. We truly enjoy being Wine Club Members and we really appreciate all that the Wine Club team of Erika and Kylie do for us. They are outstanding and make being a Wine Club Member so enjoyable. They go above and beyond to make you feel special. We really appreciate that. All the staff in the Kitchen 76 restaurant, and wine boutique always give us an amazing experience. It keeps us coming back over and over. The experience and knowledge of the Estate Sommelier, Dieter Unruh is exceptional to say the least. He is well versed in everything wine related and a great asset. If you are looking for an exceptional Wine Club to enjoy, look to Two Sisters Vineyards in Niagara on the Lake…..we are happy we did!!!"
- John & Isabella
"Joining the Two Sisters Wine Club is more than the delight of receiving shipments of the best wine in Niagara-on-the-Lake, it welcomes you into a family that embraces its members wholeheartedly - be it at events throughout the year, dining at Kitchen76 or simply wandering through the vineyard. The TSV Club events are unique, engaging and lots of fun, making every visit to Two Sisters a worthwhile experience allowing us to create memories year after year with wine club friends and the Two Sisters family. Many wine clubs just send wine, Two Sisters builds a member experience (The wine already speaks for itself)."
- Chris & Lindsay